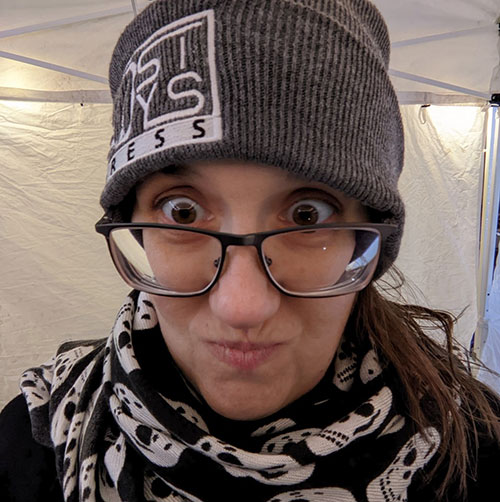 The hidden history of the world is a story of powerful feminine forces, long expunged by the patriarchy. Laura "Pelick" Siadak is working to help reclaim this lost knowledge with her portraits of archetypal female power.
Goddesses, elementals, and fairies hold a stately court in Ms. Siadak's kingdom of imagination, presiding over deep forests, desert plains, and snow-swept fields. These mythological forces given form are most often confident and serene, but some are tormented by unseen forces or unexplained situation and chose to hide their true faces behind elaborate masks.
Whatever their disposition, Laura's figures are rendered with varying levels of abstraction, but they always maintain their dignity, femininity, and humanity.
~ Review @ Blue Moon Rising 2008
Laura Pelick knows exactly how to create atmosphere in her paintings. While she primarily paints figures in nature, this night sky painting stood out to me while browsing her website. I can feel the refreshing night air, and see the fireflies darting around.
~ About "Fireflies Come Out At Night". Maria Fulmer, owner of Shop Art Direct 2012
Outdoor Fairs/Conventions:
2022 Midwest Salute to the Arts, Fairview Heights, IL (Award: Best in Category – Painting)
2018-19 Midwest Salute to the Arts, Fairview Heights, IL
2019 Vine Str. Market, farmers market, O'Fallon, IL
2019-current year Geek Craft Expo, Craft Art Fair, Webster Grove, MO
2012-14, 2017-19 Strange Folk Fest Art Fair, St. Louis, MO
2006-current year Gen Con Fantasy/Sci-fi Convention, Indianapolis IN
2014-15, 2017-18 Wizard World St. Louis, MO
2015 Queeny Park Ballwin, MO (Award: 3rd place in traditional art)
2014 Tower Grove Pride Outdoor Festival, St. Louis MO
2013-15 Planet Comicon Convention, Kansas City MO
Group Shows:
2022 Dec-Jan Soulard Art Gallery, St Louis, MO "Art of Whimsy"
2020 Sept-Oct Art St. Louis, St Louis, MO "Creatures II"
2019 Sept-Oct Jacoby Arts Center, Alton, IL "Phantasmagoria II"
2019 Apr-May COCA, St Louis, MO "Text as Visual Language"
2017 Jan-Aug Cohen Gallery Alfred, NY "Alumni Show"
2015 Sep St. Louis Library St. Louis, MO "Where the Wild Things Are"
2015 Sep Alexi Era Gallery Mascoutah, IL "Victoriana"
2015 Aug St Louis Artists' Guild St. Louis, MO "Art of Illustration"
2015 Feb-Jun Barnes Jewish Hospital St. Louis, MO "Joy"
2014 Nov-Jan St Louis Artists' Guild St. Louis, MO "Ann Metzger Memorial National All Media Exhibition"
2014 Jul-Sep Urban Eats St. Louis, MO
2013 Dec Old Orchard Gallery Webster Groves, MO "33December"
2013 Oct Koken Art Gallery St. Louis, MO "A Trip to Oz"
2013 Mar Mad Art Gallery St. Louis, MO "The Spirit of the Muse"
2012 Jun-Jul Soulard Art Market St. Louis, MO "Color"
2012 May-Jun Concrete Ocean St. Louis, MO "Beggars & Burlies"
2012 Apr Mad Art Gallery St. Louis, MO "Through the Looking Glass"
2012 Jan-Feb Soulard Art Market St. Louis, MO "Masks"
2011 Jun-Jul Soulard Art Market St. Louis, MO "RED"
2010 Oct-Nov Soulard Art Market St. Louis, MO "Mixed Media"
2010 Jul 2720 Cherokee St. Louis, MO "Drawgasmic"
Children's Books:
Princess and the Whale – Cory Edwards
Golden Winged Fairy – La La Fae